B"H
B"H! MY SIDDUR AVAILABLE IN PRINT!!! Details to follow this week!!!
New! First Ever Animated - Living Siddur!
Click here to see the Siddur

Come Alive

!
About "My Siddur"
B"H
With G-d's help, My Siddur/Siddur Sheli is poised to be the world's premiere Davening training program benefiting your students, regardless of age or background. Thousands have benefited from the Siddur and the accompanying audio cds with the recorded Tefilos, and hundreds of thousands - or millions, many more will benefit from the new version.
After 2 years of editing and updating, the expanded edition of Siddur Sheli - My Siddur is ready for print, to be animated online and made into an Apple/Android app.
Siddur Sheli / My Siddur is B"H evolving into a most effective Davening/reading/teaching/practice tool, incorporating print, audio, online animation and ipad/smartphone app.
Sample links are below.

The new 250 page Sephardic-style transliteration edition of the Hebrew School Siddur now includes Shabbos and Holiday selections, perfect for Shul Junior Congregations.
The updated My Siddur program is now available for sponsorship by a proud sponsor...
There are a few levels of sponsorship available - including the printing, recording, animating and "app"ing of the Siddur - in 2 versions, Sephardic and Ashkenazic style pronunciation.

IY"H, when a sponsor comes through for this current Sephardic-style edition, it will take about 2-3 weeks to print and one month to ship from China - to be ready in time for Hebrew School in the fall.

If you have anyone in your community who loves Davening, is able and may be interested in sponsoring the My Siddur program, please share this proposal and samples to him. I will discuss the costs of the levels with you or him personally, and of course - you get free Siddurim for your community!
Surprise Yourself and see the complete Table of Contents and about 50 sample pages here:
http://www.toolsfortorah.com/MySiddur/MySiddurExpanded/SiddurSheliSponsorSamples.pdf


See animation samples here: http://www.toolsfortorah.com/LivingSiddur.htm
Once the sponsorship details are set, I will be able to asses pricing and availability, and will post all the info at
www.ToolsforTorah.com. No need to email or call about this info. I will post is as soon as I know it.
As before:
If you are in a crunch - and must have certain pages of the Siddur before it is printed and delivered, you are able to purchase a download version for $100 - which will be credited towards the printed books when they arrive IYH.
Thank you!
CLICK the link to see about the New Sephardic Style Siddurim
http://www.toolsfortorah.com/MySiddurExpanded.htm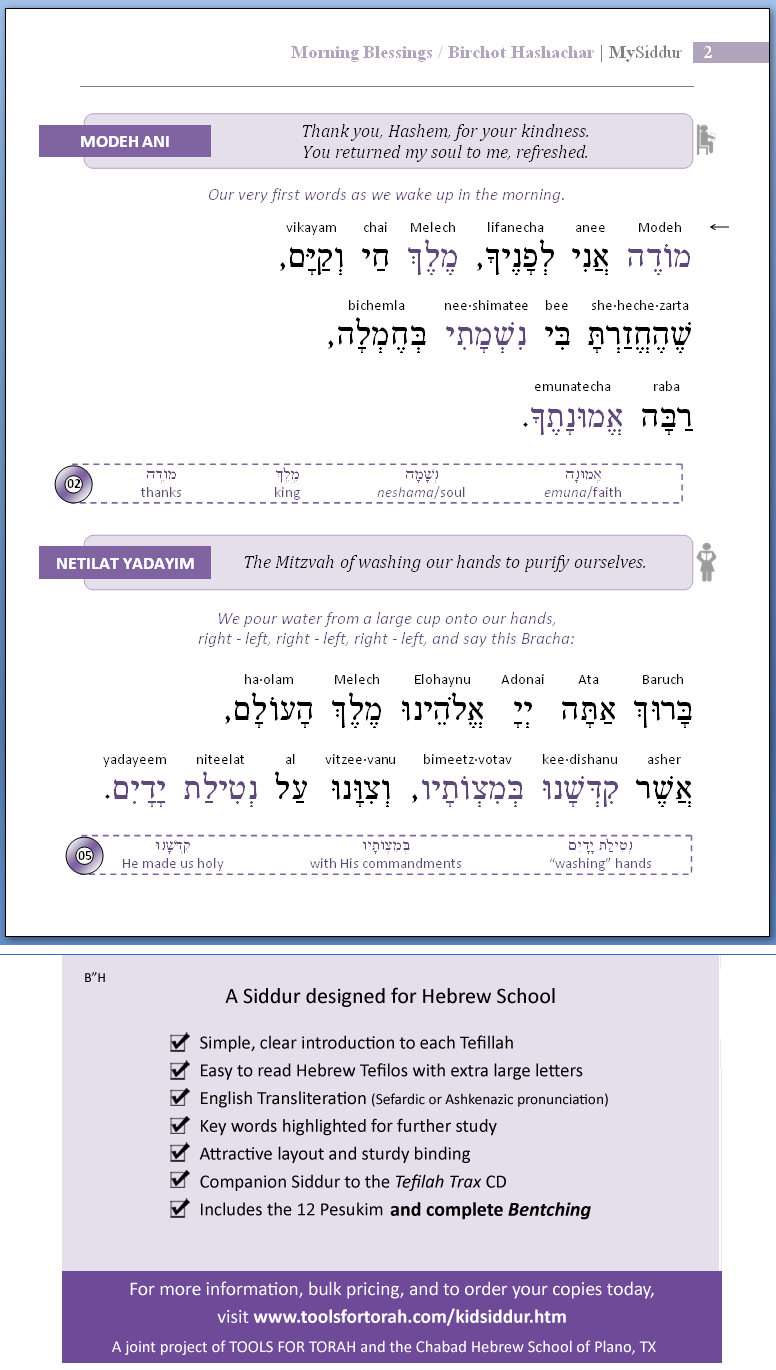 Click HERE to see the
NEW COMPLETE TABLE OF CONTENTS > > >
Click the thumbnail to see the magnificant cover by Chava Levin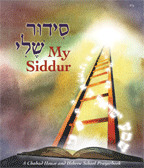 TO SEE THE TWO VERSIONS OF THE SIDDUR
CLICK HERE!
The KidSiddur is 8.5" high / 7" wide.
Binding is sturdy card, laminated.
120 pages - high quality shiny pages.
Has all the Tefilot on the Tefila Trax CD - Some of the Bentching on Bentching Trax and more!
---