בס"ד
NEW UPDATE: 09/24/2014
B"H - GREAT NEWS!
The Chumash Workbooks 2.0 are AVAILABLE IN PRINT AND DOWNLOAD* for Parshiyos:
Toldos, Vayeitzei, Vayishlach, Vayeishev Mikeitz and Vayigash.
(The books are ready to use - in print and download.
The Chumash Workbooks are now in a new format, divided into about 15 units per Parsha.
Each unit has 10-15 Chumash skill building activities.
Also, to save space in this new print edition, the STUDY sheets are separate. We are in the midst of tweaking the study sheets for you to download at no extra cost. When they are ready - we will post that info here.

Return soon for updates and spread the word among your teachers and schools!
You can place your order now - on the General Order Page.
Much Hatzlacha in your study and teaching!
- Chayim
Download free - a great Chumash Prefix - Suffix Guide for your students here.
Click the workbook to see a sample of each activity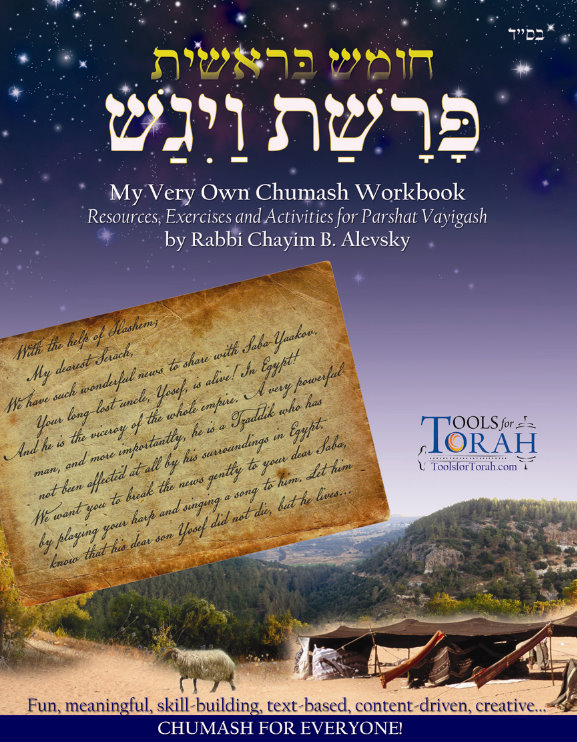 More info about the books.
Some of the fine features included in the Chumash Workbooks are:
Chumash and Rashi Translation study and worksheets
Word and comprehension skills
Shoresh, prefix-suffix guides and activities
Trop punctuation guide and activity
Uniquely creative, thorough content review questions in English and Hebrew
Rashi Review
A unique Shoresh dictionary, first of its kind!
A complete - All-Parsha-Words dictionary
Practical lesson application
Fun Sheets and Related Games and Activities (will be available for download / in Teacher's Edition)
Finally, to accomodate a larger audience, we have* two versions of these Chumash Workbooks. They differ only in how the common Hebrew names and places are transliterated, mainly in the review questions:
1. Sephardic/Israeli Style: Binyamin/Yitzchak/Parashat/Korbanot
2. Ashkenazic/American - Style: Binyomin/Yitzchok/Parshas/Korbonos
* The current available edition has the Ashkenazic style transliteration.
When all the tweaks are completed, we will add the Sephardic style.
Downloadable Copies
*The cost for the download version of each Parsha is $100, with permission to mix, match and print as many copies as needed for your class, for the current school year. Cost, rules and regulations may change.

The Chumash Workbook files are large, please be patient as they may take a few minutes to download. Make sure to SAVE them to your computer after you open them, so you won't need to download them again.
---
Click here to return to the Home Page