What It's All About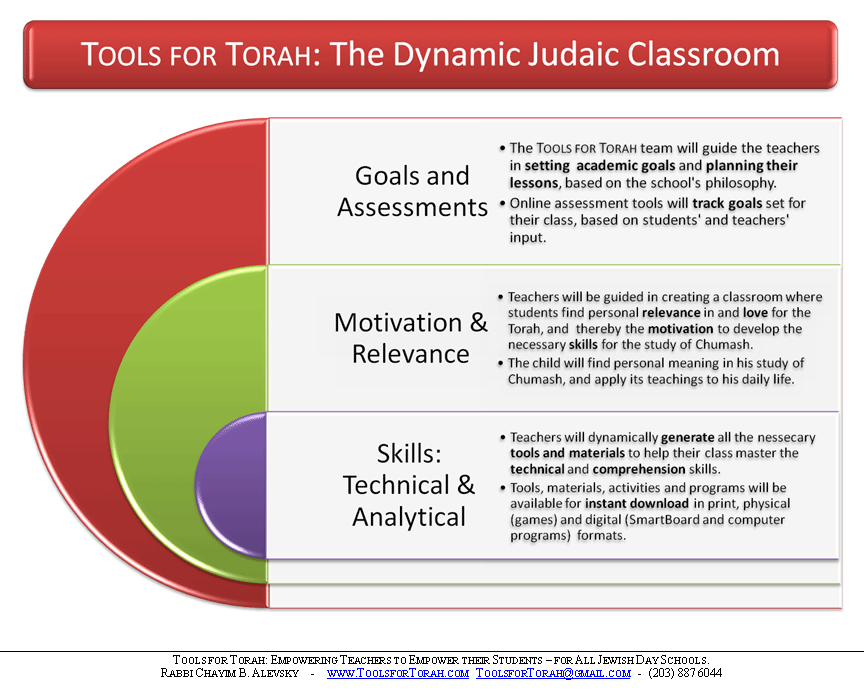 Plan
Key to the process will be aiding teachers in assessing the needs of their class as a whole, as well as individual students. Tools for Torah will also provide the support for meeting these needs by providing resources as well as opportunities for mentorship and collaboration.
Customize and Create
Via the World Wide Web, teachers will access a unique, easily customizable resource that will help them efficiently generate all the tools and materials needed to assess their classes and tailor their Torah teaching to the varying skills and interests of their students. Based on the teacher's input, the teacher will be guided to recommended activities, available on the site for download in print, audio, video, SmartBoard and computer applications. These materials and activities will be created by the Tools for Torah team. Teachers will then customize their online lesson plans, with the options to store their lesson plans online, and with the ability to modify as needed. These plans will be also shared online, for the benefit of other teachers.
Assess
The incorporation of a Learning Management System will help keep track of both the teacher's chosen curriculum and the children's progress to ensure that goals are adequately achieved. Teachers will be able to assess the students' progress and generate individualized reviews and tests for the students, based on their profiles. Students will login for their individualized, saved profiles, and the program will monitor and provide reinforcement tools to improve their knowledge and skill development.
Tap into the World Of Teachers
Teachers from all over the world will be encouraged to contribute materials to the site (with compensation for their contributions). Submitted materials will be carefully evaluated, and high caliber submissions will be indexed and added to the site.
Recordings of the Chumash and Rashi in the original Hebrew and translated into English will also the available on the site, as well as other independent study resources. Videos of teachers teaching master lessons will be available for online viewing. Live, teaching seminars from expert educators will frequent the site, along with the teachers' comments and discussion forum.
As a virtual Community of Practice, Tools for Torah will breathe new life into Jewish Studies classroom everywhere. Tapping into the knowledge and creativity of hundreds of other instructors, teachers will enhance their Chumash classes through fun games, exciting collaborative learning, thought-provoking discussion starters and innovative technology. Our online discussion boards covering a wide range of educational tips and topics from teachers' input and experience will also be invaluable to the Torah teacher.
In Print
Tools for Torah will also offer customizable printed versions of its quality materials for schools and teachers to tailor to each class' interest, along with the school name. Teachers will choose from the online teaching aids and materials, for Tools for Torah to print.